NEW FOR 2019:
THE OUTDOOR EXPO WILL BE A SAT & SUN SHOW, WITH VENDOR SET UP ALL DAY FRIDAY!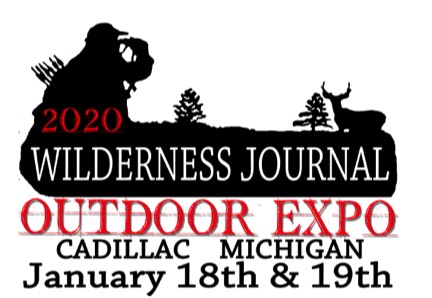 The Wilderness Journal Proudly Presents WILDERNESS JOURNAL OUTDOOR EXPO 2020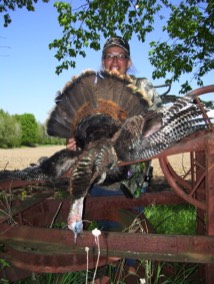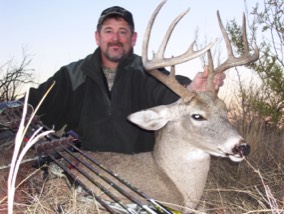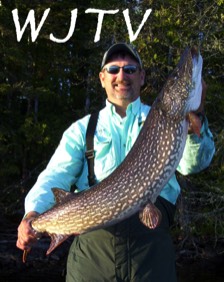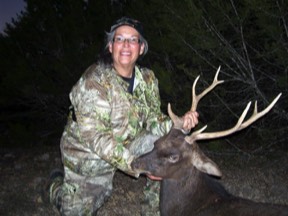 ATTENTION VENDORS: PLEASE PLAN ON PROVIDING YOUR OWN TABLES AND BOOTH DISPLAYS. IF YOU DO NOT HAVE YOUR OWN TABLES FOR YOUR BOOTH YOU WILL NEED TO CONTACT THE EXPO OFFICE AS SOON AS POSSIBLE TO SEE IF THERE ARE ANY REMAINING! WE HAVE SOME TABLES & PLENTY OF CHAIRS THAT CAN BE RESERVED - BUT THEY ARE 1st COME, 1st SERVED! : ktrs30@charter.net
DATES OF WILDERNESS JOURNAL OUTDOOR EXPO:
Saturday January 18th & Sunday January 19th 2019
SHOW WILL BE OPEN TO PUBLIC:
Saturday 9am-8pm Sunday 9am-2pm
Vendor Set Up: Friday Jan. 18th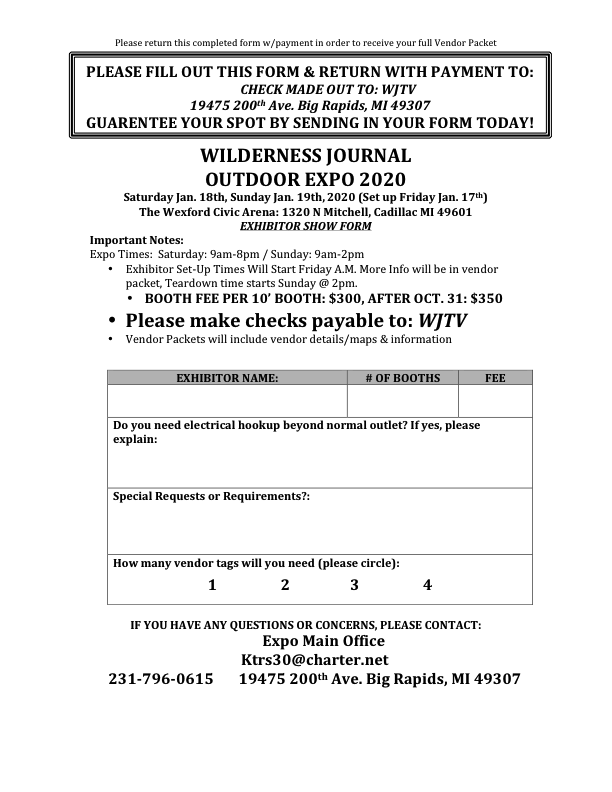 LOCAL HOTEL INFORMATION:
There are many options for staying in the Cadillac area. And while we do NOT endorse any of these hotels, here is information for several options in the surrounding area, please contact them directly to make room reservations.

HOLIDAY INN EXPRESS & SUITES
Located on the South end of Cadillac
Free wi-fi & free breakfast
7642 S. US 131
231-779-4656

HAMPTON INN CADILLAC
Located on the South end of Cadillac
Free wi-fi & free breakfast
1650 S. Mitchell St, Cadillac
231-779-2900

DAYS INN CADILLAC
Located in Cadillac West
Free wi-fi & free breakfast
5900 M-115 Cadillac
231-775-4414

EVERGREEN RESORT CADILLAC
Located on the South end of Cadillac
Free wi-fi & free hot breakfast buffet
7880 Mackinaw Trail, Cadillac
231-775-9947

ECONO LODGE
Located in Cadillac West
Free wi-fi and free breakfast
2501 Sunnyside Dr. Cadillac
231-775-6700
CONTACT INFO FOR QUESTIONS/CONCERNS:
EXPO OFFICE
231-796-0615
ktrs30@charter.net
19475 200th Ave. Big Rapids, MI 49307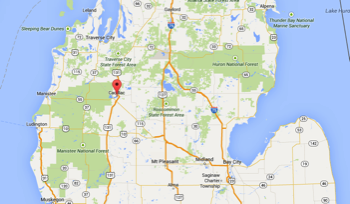 All Booths Will Have Access
To Electrical: Vendors Are
Responsible For Providing
Their Own Power
Strips/Extension Cords
& Tape To Secure Cords To
Floors To Prevent Tripping
VENDOR PASSES: Vendor Bracelets Have Been Included In Your Vendor Packets. Vendors will be issued up to 4 passes, you may leave passes at the front table for replacement workers
Outside Vendor Food
Is Allowed, However We
Encourage You To Purchase
From The In-Show Snack Bar
The Wex Is Surrounded By A Fence Which Faces The Main Road. Vendors Are Invited/Encouraged To Hang Banners/Signs On The Fence During The Expo, We Encourage Wire Zip-Ties For Security.
Vendor Set Up Times:
Friday Jan 18th :Boats & Campers: 7am
All Other Vendors: Noon
Saturday: 8am, Show Opens @ 9
Sunday: 8am, Show Opens @9
Teardown: Starts @ 2pm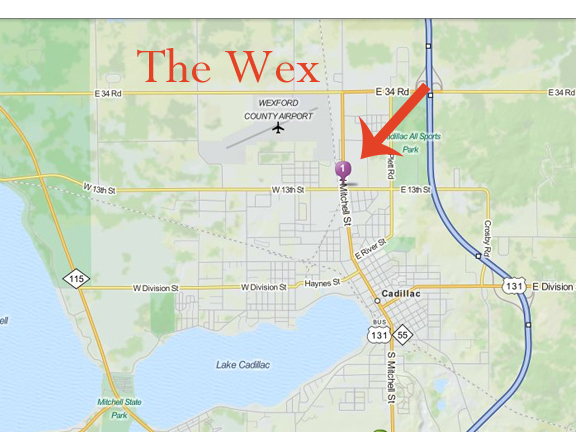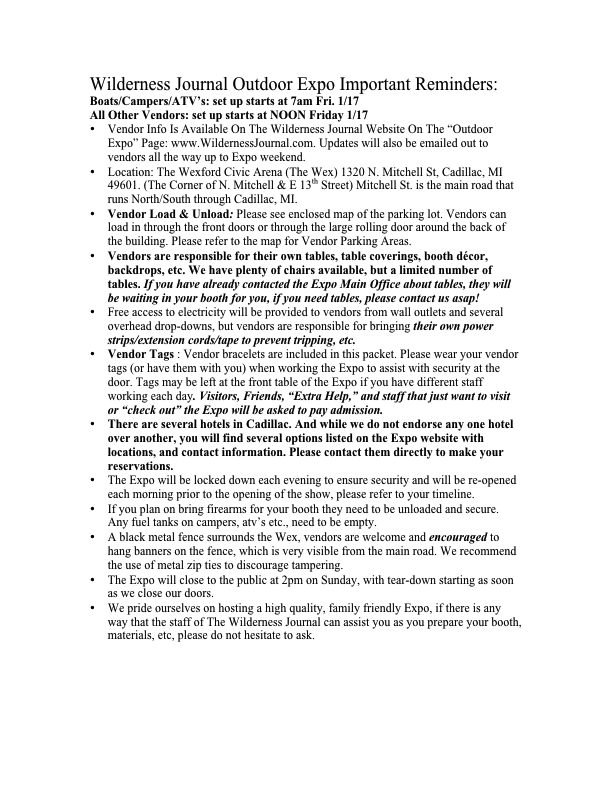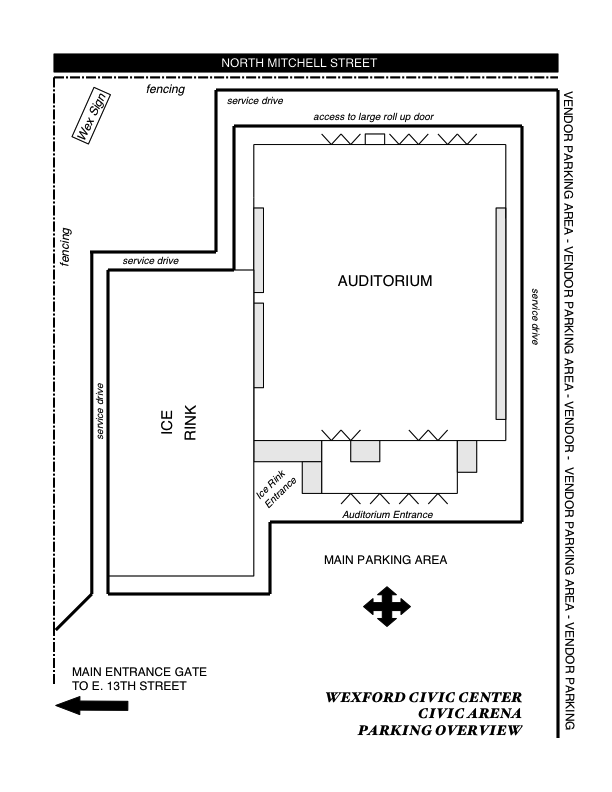 EXPO FLOORPLAN IS SUBJECT TO CHANGE