DUE TO NATIONAL PANDEMIC THE WILDERNESS JOURNAL OUTDOOR EXPO WILL NOT TAKE PLACE IN 2021, STAY TUNED FOR PLANS FOR 2022. STAY SAFE & GOD BLESS!
We Are Thrilled To Invite You To The Wilderness Journal's Outdoor Extravaganza
OUTFITTERS ~ BOATS ~ CAMPERS ~ OUTDOOR LIVING ~ RETAIL ~ SPORTING GOODS ~ BLINDS ~ LODGES ~ CONCESSIONS ~ CLOTHING ~
KUBOTAS ~ CLUBS & GROUPS ~ SAMPLES ~ BOOK YOUR NEXT ADVENTURE!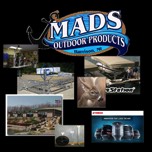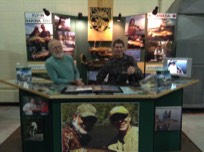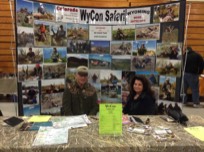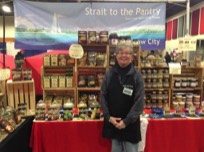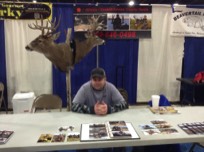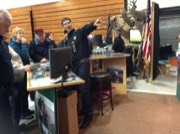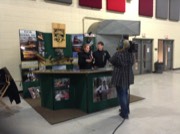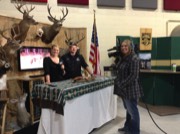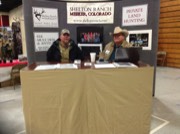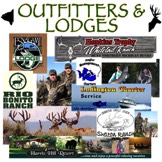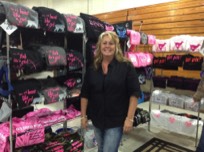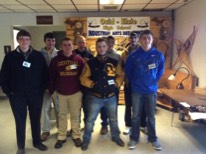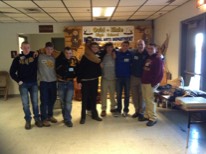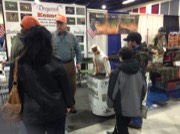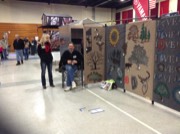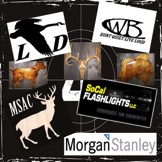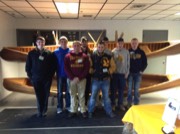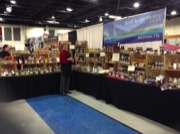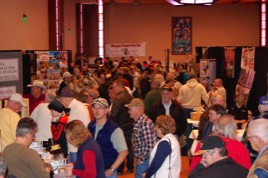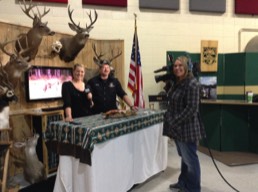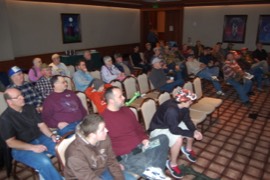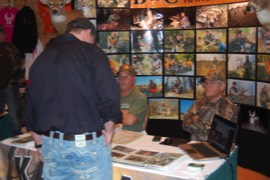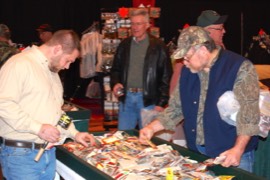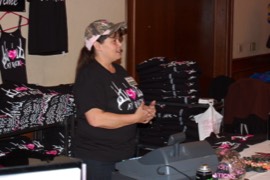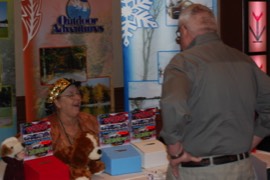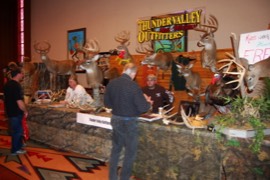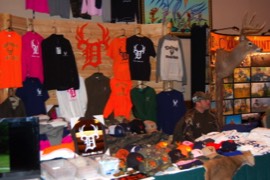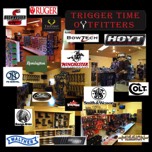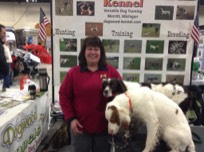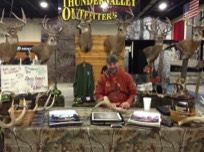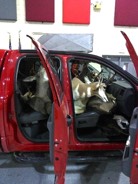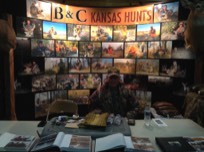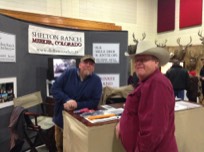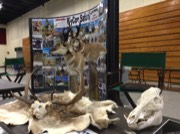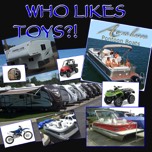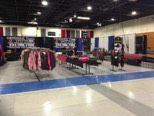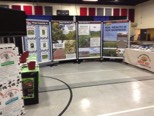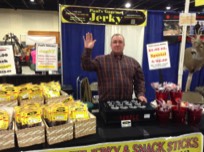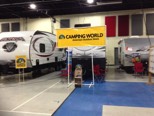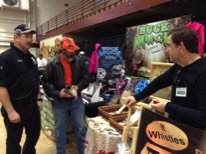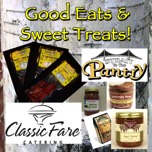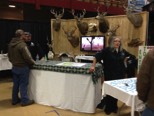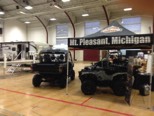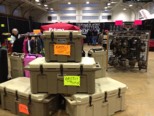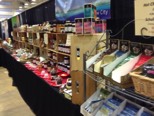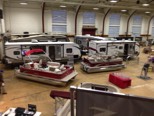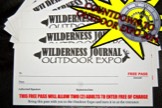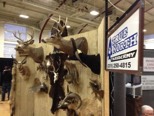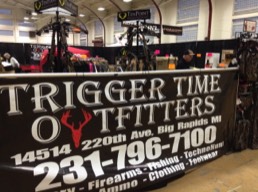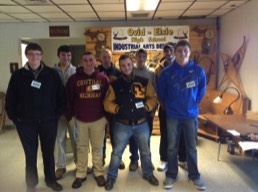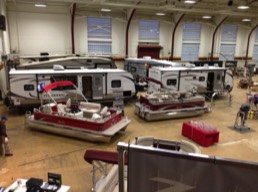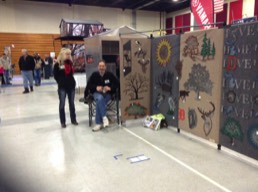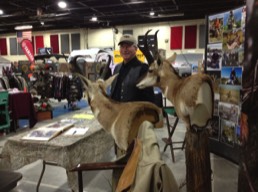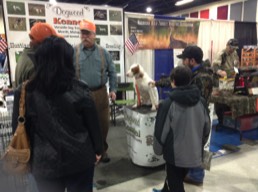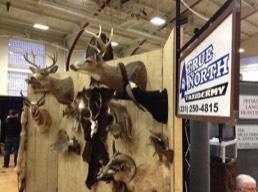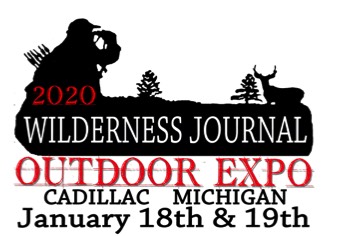 We Are Thrilled To Invite You To
The Wilderness Journal's
OUTDOOR EXPO
Jan 18th-19th, 2020 in Northern Michigan!
Sat. 9am-8pm, Sun. 9am-2pm
Adults: $7, Kids 12 & Under FREE!
The Wexford Civic Center:
1320 N. Mitchell St.
Cadillac, MI 49601
Welcome Fans & Vendors!
Don't Miss Our Featured Seminar
Subject TBA
Sat at 1:00pm During the Expo
Featuring:
Kyle Randall, Host of The Wilderness Journal
Guest Speakers TBA
WE ARE EXCITED TO ANNOUNCE THE OUTDOOR EXPO WILL NOW BE A SAT-SUN EVENT!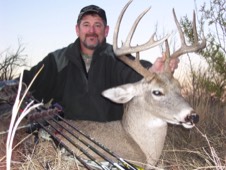 WJTV'S OUTDOOR EXPO! BROWSE THE OFFERINGS OF OUR FAMILY OF VENDORS. BOOK YOUR NEXT HUNTING & FISHING ADVENTURE.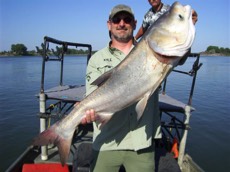 WE ARE EXCITED TO BRING TOGETHER OUR FAMILY OF WILDERNESS JOURNAL PARTNERS & FAMILY OF VENDORS FOR NORTHERN MICHIGAN'S WILDERNESS JOURNAL OUTDOOR EXPO!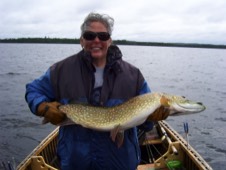 BOOK YOUR TRIP TO HUNT AND FISH THE PLACES YOU SEE ON THE SHOW!

FUN FOR THE WHOLE FAMILY!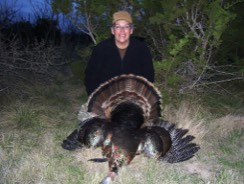 $7 Adults
12 & Under FREE!
MEET KYLE AND TINA!
CHAT WITH THE
WJTV PRO STAFF!

2020 Vendor List:
Vendors: Don't See Your Business Listed? Turn In Your Vendor Form & Confirm Your Booth Space Today!
Contact Us
The Wilderness Journal
Marine Automated Docks
Ina Store Of Tustin
Algoma Country
Wilderness Custom Blinds
Esnagami Lodge
Shelton Ranch Outfitters
Weathered Tree Products
The Wex Concessions
Photo Op Booth
Point North RV
Camp Wilderness
Wycon Safaris
US Forest Service
All-Blade Archery
All Weather Seal of West Michigan
US National Guard
Draves Whitetail Mineral Co.
Rockwell Lake Lodge
Kid's Indoor BB Gun Range
Meemo's Farm & Retreats
Trigger Time Outfitters Clearance Sale
Kids Stop Booth
Heintz Propane
Northern Pines Taxidermy
Rainy River Outfitters
Lodge 88
Timber Wolf Lodge
Bill Funk's "Double Vision Buck"
Cosco, Inc.
Lucky Buck
Riventree Skulls
Slipknot Charters
Carma Sport Fishing
Whitetail Outfitters of Ohio
Outdoor Adventures
Marupa United Network
Hopkins Whitetails
NRA
State Farm
Winnie's Brands
Northeast Missouri Outfitters
Mid Michigan Honor Flight
Poplar Lake Lodge
CMS Bass Fishing Tournament
Klean Gutters Midwest
Above & Beyond Screen Printing




The Wilderness Journal
E.L. Marketing & Promotions
Marine Automated Docks
Indoor Boat Show!
Ina Store Of Tustin
Algoma Country
Wilderness Custom Blinds
Esnagami Lodge
Shelton Ranch Outfitters
Weathered Tree Products
The Wex Concessions
Photo Op Booth
Point North RV
Camp Wilderness
Wycon Safaris
US Forest Service
All-Blade Archery
All Weather Seal of West Michigan
US National Guard
Draves Whitetail Mineral Co.
Rockwell Lake Lodge
Kid's Indoor BB Gun Range
Meemo's Farm & Retreats

Trigger Time Outfitters Clearance Sale
True North Taxidermy
Kids Stop Booth
Thunder Valley Outfitters
Lucky Buck
Riventree Skulls
Slipknot Charters
Fletcher Lake Lodge
Carma Sport Fishing
Whitetail Outfitters of Ohio
Outdoor Adventures
Leaf Filter
MI DNR
Marupa United Network
Hopkins Whitetails
NRA
State Farm
Winnie's Brands
Northeast Missouri Outfitters
Mid Michigan Honor Flight
Poplar Lake Lodge
CMS Bass Fishing Tournament
Klean Gutters Midwest
Above & Beyond Screen Printing



The Wilderness Journal
E.L. Marketing & Promotions
Trigger Time Outfitters Store
Trigger Time Used & Consigned Guns
Marine Automated Docks
Indoor Boat Show!
Ina Store Of Tustin
Wilderness Custom Blinds
Esnagami Lodge
Shelton Ranch Outfitters
Weathered Tree Products
The Wex Concessions
Photo Op Booth
Klean Gutters Midwest
Sunset Country, Ontario, Canada
Point North RV
Hopkins Trophy Whitetails
Long Hungry Branch Outfitters
Wycon Safari
US Army Recruiting Trailer
It Works!
Huron-Manistee National Forest Service
Wilderness Journal Trophy Display
Colonville Canvas
Hunting Works for Michigan

True North Taxidermy
Thunder Valley Outfitters
Camp Wilderness
Kids Stop Booth
Hopkins Trophy Whitetails
Michigan Wild Turkey Hunters Association
Rainy River Outfitters
LeafFilter North of Michigan
Sandy Corley Memorial Run
All Weather Seal of West Michigan
Christian Bowhunters of America
NRA
Michigan DNR
Winnie's Originals
Slipknot Charters
Small Town Gems
Whitetail Outfitters of Ohio
Outdoor Adventures
Youth Inflatable BB Gun Shoot
Hersey Customs, Inc.
Hunting Works for Michigan
State Farm Insurance
Above and Beyond Screen Printing
Real Time Pain Relief
Michigan Honor Flight
The Wilderness Journal
E.L. Marketing & Promotions
Trigger Time Outfitters Store
Trigger Time Used & Consigned Guns
Gun Auction On Sunday!
Morgan Composting
Marine Automated Docks
Indoor Boat Show!
Ina Store Of Tustin
Security Credit Union
Wilderness Custom Blinds
Esnagami Lodge
Shelton Ranch Outfitters
Weathered Tree Products
The Wex Concessions
Camping World RV
Photo Op Booth
Leaf Filter North
Paul's Gourmet Jerky
Whitetail Outfitters of Ohio
Rainy River Outfitters
Lucky Dawg Charters
Real Time Pain Relief



96.7 Hot Country The Bull
True North Taxidermy
Michigan Wild Turkey Hunters Association
Metal Stone Art Crafters
Thunder Valley Outfitters
Dogwood Kennel
Outdoor Adventures
Camp Wilderness
Strait To The Pantry
Michigan D.N.R
Country Creations
Klean Gutters Midwest
Kids Stop Booth
Cadillac Area Quality Deer Management
Hopkins Trophy Whitetails
All Weather Seal of West Michigan
Draves Whitetail Mineral Co.
Monster Midwest Whitetails
Sandy Corley Memorial Run
Slipknot Charters
Brubakers
Small Town Gems
Winnie's Originals



The Wilderness Journal
E.L. Marketing & Promotions
Trigger Time Outfitters
Morgan Composting
Marine Automated Docks
Hopkins Trophy Whitetails
Wilderness Custom Blinds
Esnagami Lodge
Shelton Ranch Outfitters
B & C Kansas
Rio Bonito Ranch Outfitters
Wycon Safaris
Weathered Tree Products
The Wex Concessions
Camper World RV
Photo Op Booth
Monster Midwest Whitetails
Lucky Dawg Charters
Whitetail Outfitters of Ohio
NRA
Paul's Gormet Jerky
Michigan Antique Arms
CutCo Knives
Klean Gutter of Michigan
The Ready Room
Tight Lines For Troops




107.9 CDY, Cadillac's New #1 Hit Music Station
Metal Stone Art Crafters
True North Taxidermy
C&C Printing
Camp Wilderness
Amsoil
Michigan Wild Turkey Hunters Association
Thunder Valley Outfitters
Strait To The Pantry
Outdoor Adventures
Leaffilter North
U.S.D.A. Forest Service
Michigan D.N.R.
Cadillac Quality Deer Management
Dogwood Kennel
Whitetail Outfitters of Ohio
StateFarm Insurance
Anchor Wizard Products
Damn Good Hunt Guide Service
Morland Custom Knives
All Weather Seal of West Michigan
Women Hunt Too
Women Fish Too
Women Camp Too
Terry's Gun Shop
Ina Store of Tustin



The Wilderness Journal
E.L. Marketing & Promotions
Trigger Time Outfitters
Morgan Composting
Marine Automated Docks
Hopkins Trophy Whitetails
Security Credit Union
Esko Roofing & Sheet Metal
Wilderness Custom Blinds
Anchor Wizard
Esnagami Lodge
Paul's Gourmet Jerky
Shelton Ranch
B & C Kansas
Rio Bonito Ranch
Weathered Tree Products
The Wex Concessions
Damn Good Hunt Guide Service
Whitetail Outfitters of Ohio
CranHill Ranch Target/Shooting Game
Corker Baitworks Handmade Lures
Dogwood Kennel
Deadhead Outfitters
Cadillac Area Quality Deer Management
Wild Bill's Hunting Adventures
Strait To The Pantry
Outdoor Adventures
Metal Stone Art Crafters
True North Taxidermy
Weathered Tree Products
NRA
Camping World RV
Michigan Antique Arms
B&J Shooting
C&C Printing
Michigan Stinger
Camp Wilderness
Another Limit Charters
Creative Embroidery
Killin' Time Charters
Leaf Filter
Klean Gutters of Michigan
Uncle Bob's Premium Sauce
Thunder Valley Outfitters
Michigan Wild Turkey Hunters
WyCon Safaris
Beavertail Knives
U.S.D.A. Forest Service


The Wilderness Journal
E.L. Marketing & Promotions
Morgan Composting
Marine Automated Docks
Trigger Time Outfitters
Esnagami Lodge
Paul's Gourmet Jerky
Shelton Ranch
Commerative Bucks Of Michigan
B & C Kansas
Camp Wilderness
Advanced Tackle
Hopkins Trophy Whitetails
Rio Bonito Ranch
Weathered Tree Products
WyCon Safaris
Classic Fare Catering
Cedar Stuff Rustic Log Furniture
Rose City RV
C&S Sports Center
Fetchin' Stixx Dog Toys
Diamond Buck
Angler Management Charters
Rustic Creations Wood Carving
Women Hunt Too
Champion Windows

Wild Bill's Hunting Adventures
UP Pasties
River Hills Lodge
Strait To The Pantry
Outdoor Adventures
Anchor Wizard
Metal Stone Art Crafters
Big Jon Down Rigger
Buck Muck
Indian River Country Cabins
Shared Outdoors
Leaf Filter
Thirty One
True North Taxidermy
Weathered Tree Products
Creative Embroidery
DW North
Ludington Charters
Herc's Gutter Works
Wilderness Custom Blinds
Harris Hill Outfitters
NRA
Morgan Stanley
Linedancer Charters & Goose Hunts
SoCal Flashlights



The Wilderness Journal
Eagle Valley Outfitters
Eagle Bay Marina
Eagle Valley Resort/RV Park
Soaring Eagle Waterpark & Hotel
Diamond Buck Camo
Morgan Composting
Hopkin's Tropjy Whitetails
Marine Automated Docks
Esnagami Lodge


WCMU Public Broadcasting
Camp Wilderness
Shelton Ranch
Another Limit Charter
Strait to the Pantry
The Edge & More
Haymarsh Huntclub
Ohio Whitetail Adventures
Pink Rack Project
Detroit Buck Club
B&C Kansas
Corker Bait Works
Rio Bonito Ranch
Wild Bill's Hunting Adventures
Big Jon Down Rigger
Buck Muck
Creative Embroidery
Exotic Concrete Creations
DW North
Hiawatha Sportsman's Club
Killin' Time Charters
Metal Stone Art Crafters
Thunder Valley Outfitters
WyCon Safaris
True North Taxidermy
Weathered Tree Products
Commemorative Bucks Of Michigan
Harris Hill
Little Muskegon Euro Mounts
International RV World